ProComm - A Division of Southwest Radio Sales, Inc.
WeDoRadios.com

Arizona State Contract # CTR046832

© 2013 ProComm, Division of Southwest Radio Sales, Inc. Created by Studio902 Web Solutions using Serif WebPlus X5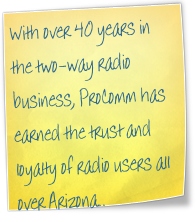 We Do Technology
Most radio users are mystified by two-way radio technology, but at ProComm we explain it in a way that takes all the confusion out of the process. We help our clients make informed decisions based on the exact products and services that will allow them to communicate reliably from point A to point B.
At ProComm, we have all the technological know-how needed to provide you with a great radio system and keep it running with top efficiency.
Whether you just need UHF or VHF Handheld radios for on-site communications, a high-powered base station with mobile radios for greater coverage or a repeater for city-wide communication, we can help.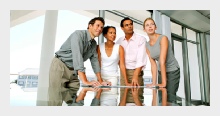 Products, Selection, Service, Integrity
ProComm is everything you need in a 2-Way Radio company.
At ProComm, we have a variety of products from many different manufacturers and carry a wide selection of the kinds of radios our customers use most. We don't ever push a certain kind of radio just because we have too many of those in stock (or the factory tells us to move more of a specific model of radio that month). As an independent dealer, not beholden to any single manufacturer we can do what's right for you, the customer and sell you what's RIGHT for your situation, no matter the brand.
We service what we sell, right here in Phoenix, whether your radio is in or out of warranty.
During our 42+ years in the two-way radio business we have earned the trust of hundreds and hundreds of customers in Public Safety, Education, Business, Industry, Manufacturing, Mining, Military, Non-Profit, Sports and Recreation, Motion Picture Production, Event Planning, Entertainment, Transportation, Security and Construction Trades.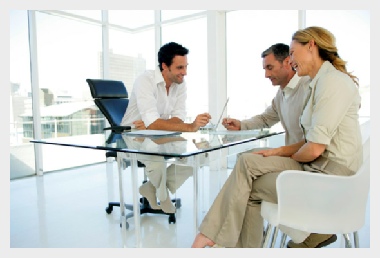 Advice You Can Count On
We watch out for you, the customer.
At ProComm, we want you to be happy with your two-way radio system so we take the time to listen to your needs, evaluate the brands, options and solutions that are available and then make a recommendation based on what will get the job done at the lowest installed cost.
As an independent dealer, we are not "married to" any one brand, allowing us greater flexibility in creating the solution that's best for your company.
Finally, we tell it like it is. No blowing smoke, no over-inflated promises, no bait-and-switch. Just honest advice.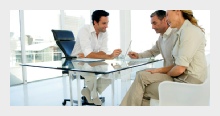 Trusted Brands
At ProComm we offer some of the most trusted brands in Two-Way Radio Communications: Kenwood, iCom, Vertex-Standard, Thales, Relm (Bendix King) and Ritron.
There may be one other two-way radio manufacturer whose "name" is more "recognized" but they cannot offer the dollar-per-feature VALUE of the brands we sell.
As a matter of fact, ProComm routinely equips our clients with superior-performing radio systems at an installed price that is substantially less than "that other company" with the Billion Dollar advertising budget.